About TnT
Introduction
Probably the most exciting and unique destination in the Caribbean, Trinidad and Tobago offers visitors the ultimate all-round holiday experience. Together with Tobago's well-known fine beaches and coral reefs, the larger sister island of Trinidad is justly famous for its incredible natural diversity and dynamic cultural scene.
Each February, the capital, Port of Spain, explodes into one of the world's biggest parties, the pre-Lenten Carnival, where tens of thousands of costumed masqueraders parade through the streets to lively sound system beats and the time-old Trinidadian percussive instrument, steel-pan. And at any time of the year, Port of Spain offers visitors a vibrant and friendly nightlife where you can really get to know Caribbean culture, far from the glitz of all-inclusive resorts.
Outside the big city, the twin-island republic is notably laid-back, with myriad opportunities for eco-tourism. From rainforest – covered mountains and low-key beach communities, through to Hindu temples and abundant bird and animal life, it is hard not to find your own little piece of paradise in T&T.
Festivals, religions, geography and nature 
With three major religions, one of the world's biggest carnivals, and thirteen public holidays, Trinidad & Tobago is well known for its penchant for partying and celebration.
In many ways island life revolves around its explosive Carnival, the Caribbean's largest celebration. The hype and build-up begins as the New Year's Clock strikes twelve, and culminates in four days of non-stop music and dance in February in the streets of the capital Port of Spain. From January, each weekend hosts a series of fêtes – in fact stage shows – with all night dancing and imbibing of rum. During the week calypso tents put on nights of less frantic music, accompanied with witty poetry and social commentary. The country's atmosphere builds in intensity until February when the main street parade event takes place.
Brought to Trinidad by the French in the 18th century as mardi gras, Carnival is the 'parting of the flesh' (carne-vale) before Ash Wednesday and Lent. The French indulged in masked balls while African slaves took to the streets with bamboo sticks banged rhythmically on the ground. Satire of the plantation system followed, combined with a number of West African folklore characters such as stilt walkers (moko jumbies) and demons (jab jabs) – all adding to the multicultural brew. After emancipation in 1834, the burning of sugar cane alongside wild dancing built up the intensity. Carnival in essence began to bring together the powerful and powerless once each year. Playing mas (masquerading) was acceptable with anyone; prejudices and lusts were brought into the open, and a truly Trini cultural identity was born.
Carnival now begins with the raucous J'Ouvert (pronounced 'jouvay') celebration (from the French 'jour overt'). At 4am on Carnival Monday, huge bands of revellers hit the streets with a vengeance, most often covered in mud – a true setting free of the spirit before the (slightly) calmer pretty mas (costume parades) of Carnival Monday and Tuesday.  The old traditions are still found in one form or another on the streets of Port of Spain – though sound systems, fast Soca music and bikini costumes have taken over much of the event. As Carnival Tuesday draws to a close and Ash Wednesday's quiet streets begin to dawn, much of T&T's population can think of only one thing: bring on Carnival next year!!
But in Trinidad you never have to wait long until the next party. This is par for the course when you have a mix of races and religions in your country; Christmas, Eid and Divali are all national holidays, as is Indian Arrival Day, Easter, Independence Day and Emancipation (from slavery) Day. Hindu Divali and Phagwa, and Muslim Eid tend to be celebrated by many outside of each faith, including school children of all denominations. Additionally, every region has its own local festivals – in Arima people of mixed Spanish & Amerindian descent hold the Santa Rosa festival in August. Add to this yachting, steel band and oral tradition weeks, as well as regular cricket and football matches, and, well, you begin to get the picture.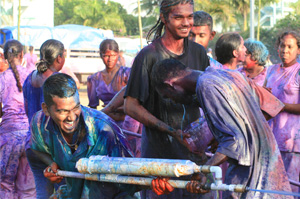 One of the most colourful Hindu festivals takes place shortly after Carnival. The Caribbean version of the Indian 'Holy' festival, known as Phagwah, welcomes the coming of Spring with a flurry of pink die, sprayed, fired, tipped and smeared over all present at a number of Trinidadian locations. Not for the faint (or clean) hearted!
Trinidad really is a rainbow nation – aside from the Hindu Mandirs (temples), Muslim Mosques and Christian churches you will see all over the islands, there are even one or two places in Trinidad where Hindus, Christians and Muslims worship in the same premises – such as Kernaham village at Nariva. Intermarriage between people of African, European, Indian and Chinese descent is just seen as normal on these shores.
On Tobago, the festival calendar is equally diverse, if a little less routed in religion. Easter holds the world-famous goat race, accompanied by judicious gambling and partying, and attracting people from across the Caribbean and well beyond. The Great Race in August centres around fast boats competing to be the first arrival from Trinidad – though most people concentrate more on the liming and dancing than anything else!  Biggest and smartest of all, however, is the Tobago Jazz Festival (www.tobagojazzfest.com), an international music event which over the past few years has featured artists as diverse as Stevie Wonder, Elton John, Diana Ross, Steel Pulse and Sting.
Geography and some unusual places….
Located just 10km off the coast of Venezuela, Trinidad is roughly 60km long by 50km wide, and is the southernmost point of the Lesser Antilles island chain, a good way out of the reach of Atlantic hurricanes. Once a part of the South American mainland, the island shares a geology and natural environment with that of Venezuela rather than the other Antilles to the north. As a result, Trinidad boasts an incredible array of eco-systems, flora and fauna, combining those found in South America with those from other Caribbean islands.
Trinidad's rainforest-smothered Northern Range mountains rise to 941m at the mighty peak of El Cerro del Aripo before dropping down to one of the Caribbean's most undeveloped coastlines to the north, where stunning beaches become home to thousands of giant egg-laying turtles from March until August.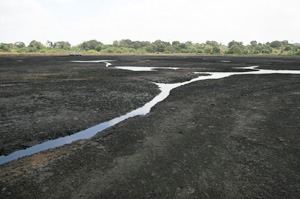 In the far south of Trinidad lies an incredible geographical feature – the world's largest lake of natural asphalt, or pitch. Gradually self-replenishing, asphalt from this 'lake' was used for the world's first paved streets – in Port of Spain and then followed shortly by Washington DC. Oil was also discovered nearby at La Brea in the 1850s, and Trinidad's industrial heartland on the eastern coast and in the far southeast now produces around 150,000 barrels of oil each day.
Between the mountains and industrial areas lie diverse savannah environments complete with Morish palms and seemingly countless bird species, low-lying wooded hills with cocoa and coffee plantations, and fields of sugar cane and rice – all interspersed by the colourful Hindu flags of Trinidad's East Indian population.
Another remarkable natural feature are the 'mud volcanoes' found across the south of the island. Spurting bubbles of sulphuric mud, these mounds have been known to erupt viciously at times, and once buried part of the village of Piparo in 1997.
For many, Tobago is a more 'typical' Caribbean island, boasting a western coastline of gorgeous white sandy coves and a couple of long swathes of pristine beach too. The water is of the postcard-perfect variety – turquoise and clear, with gentle waves lapping at the shoreline. A couple of phenomenal reefs lie just offshore, a divers' paradise with schools of brightly coloured tropical fish. The Atlantic coast, conversely, offers surfing waves and a series of low-key fishing communities.
Around 40km long by just 15km wide, Tobago has a central mountain ridge which harbours the western hemisphere's oldest protected rainforest. Though not as diverse in animal and plant life as Trinidad's forests, there is still a great deal to see, including a few species not found on its larger sister isle.
The "Liming" Culture of T&T….
If there's one thing that ties together all of Trinidad and Tobago's population, it has to be liming. The Trinbagonian word for socializing or hanging out, limes can take place in peoples' houses and yards, in bars and clubs, and typically outside at beaches and on riverbanks. There are definitely strong connotations of eating and drinking at a lime, and it's a pretty open-ended pastime too – big limes can go on for days at a time!
Why not come and join the lime in person!?
Cuisine and music 
Reflecting the different ethnic groups, as well as the strong presence of international agencies and oil companies in T&T, the diversity of food and restaurants on the islands is more varied than elsewhere in the Caribbean.
The Indian influence is most strong on Trinidad, and foods like roti and doubles have become national favourites. Rotis Trini-style are flat bread wraps most often eaten at lunch, where something like a savoury pancake layered with split peas is filled with a choice of curried vegetables and/or meats, such as potato, channa (chick peas), bodi (string beans), sweet pumpkin, bhaji (spinach) and curried mango.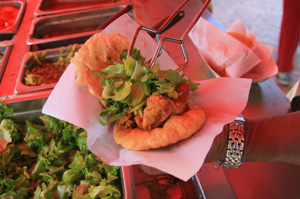 Most common meats are chicken or beef, but you'll also find shrimp, goat, duck and other fillings on occasions. A very popular breakfast or nighttime snack is doubles, always served street-side and consisting of two small flat breads with curried channa spooned over them and toppings of pepper, cucumber or mango sauces.
Trinidadians are rightly proud of their national instrument, the Steel Pan drum: the only instrument in the world invented in the 20th Century. With its origins in the inner-city areas of Port of Spain, pan has grown to be an international phenomenon representing the Caribbean as a whole.
Each February the national steel pan competition Panorama runs concurrently with Carnival, with sessions at every pan yard each evening – well worth a visit.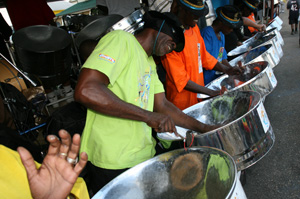 Each steel pan orchestra is incredible; there are around thirty large bands in Trinidad alone, each with between 130 and 160 musicians. Competition is fierce – even to get a place in the band – and the immensity and dynamics of the music is like no other musical experience on Earth.
To get the real experience you have to stand in the middle of one of these bands, which you are welcomed to do during practice sessions held several times per week. We will be happy to introduce you on our evening tour! 
Calypso too is a Trinbagonian music form, born from the early sugar plantations and changed through the centuries to incorporate Latin, French and British influences into its very African-style commentary. Made hugely popular in the 20th Century by the legendary Mighty Sparrow, calypso has come to be the most popular form of social commentary and political wit and humour on the islands.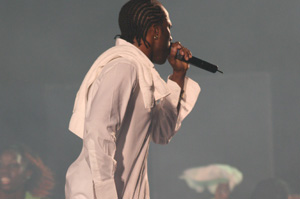 Through the decades, scores of famous calypsonians have added their own styles to the genre, such as the inimitable David Rudder in the 1980's who established a more energetic feel. You can hear calypso live during the Carnival season in Calypso Tents where various artists perform nightly – out of the season and all year round you can experience live Calypso in a small club in Woodbrook – a visit here is part of our Night Tour – we will help you with the interpretation of the songs…
Developing calypso into an even more eminently danceable form in the 1990's came soca. A more frantic pace with influences from Indian drumming as well as the African tradition was accompanied with electronic instruments and lyrics more focused on jumping, waving and wining than on dealing with social issues. With the song Hot, Hot, Hot! probably the world's most famous soca hit, you'll be hard pushed to find it still played here; much more likely are the songs of superstar Machel Montano who for the last few decades has led the way with a new album each year and a long series of catchy tunes, famous not only in TnT but in North America, Canada and Europe among Caribbean people. In the central and south of Trinidad, Chutney Soca holds sway, with risqué lyrics sung in Hindi and English, and dance moves and beats mixing with the classical Indian music form.
Aside from the most mainstream and popular forms, there is also a good rock music scene in T&T. A number of local bands like Jointpop and Orange Sky regularly fill dancefloors with their catchy tunes. Currently, well-known Trinidadian sitarist, Mungal Patasar is also proving popular, and who together with his eight-piece band, plays a popular mix of Indian and jazz music together with steelpan.
Reggae, of course, is heard all over Trinidad and Tobago – except in Carnival season when Soca and Calypso most definitely hold sway – but every dancehall, club and bar will switch between genres in an exceptionally refreshing way that will have you moving whatever your tastes!