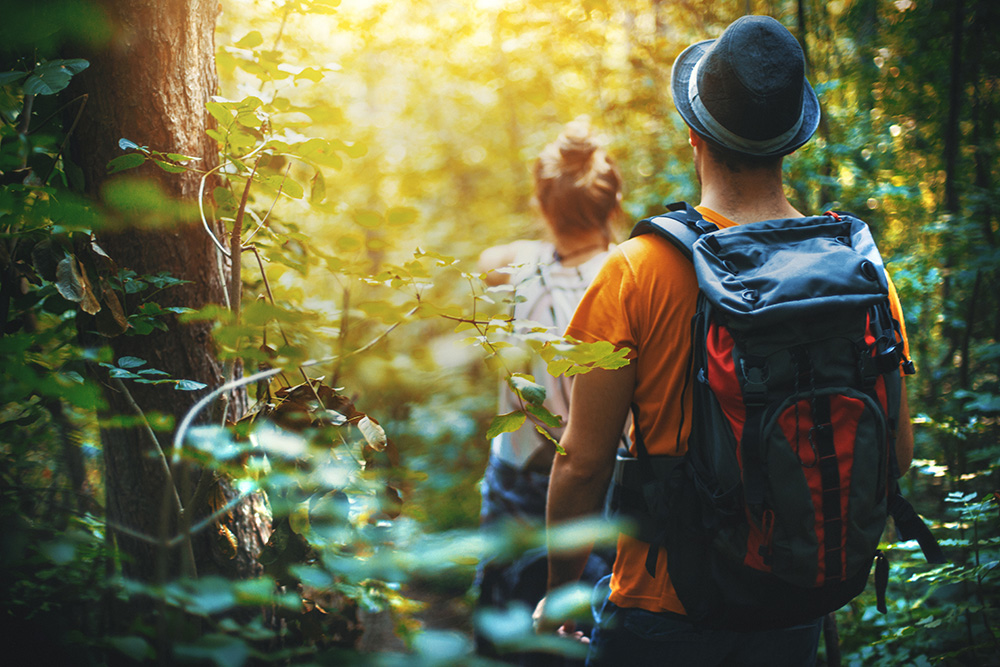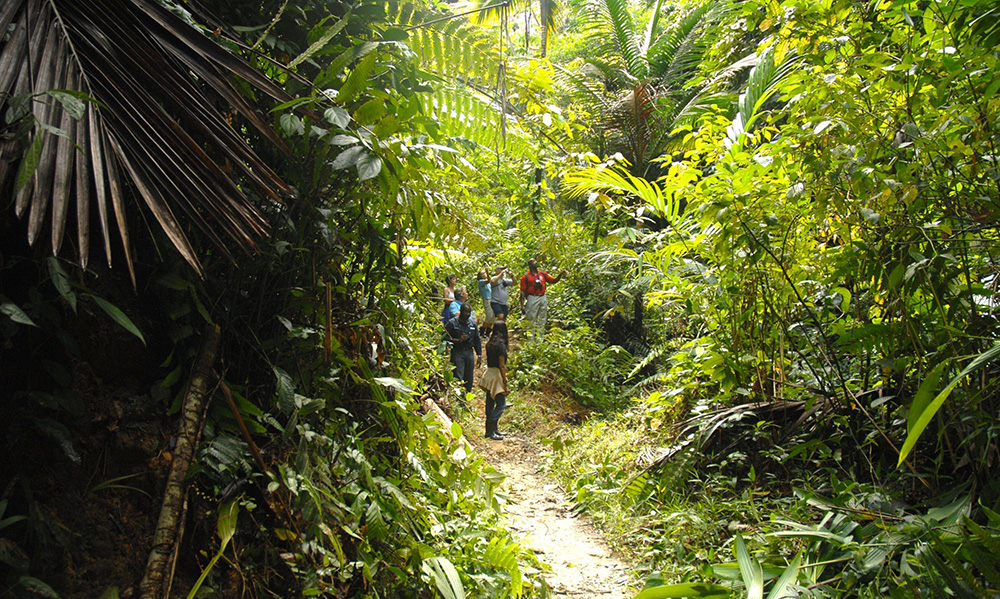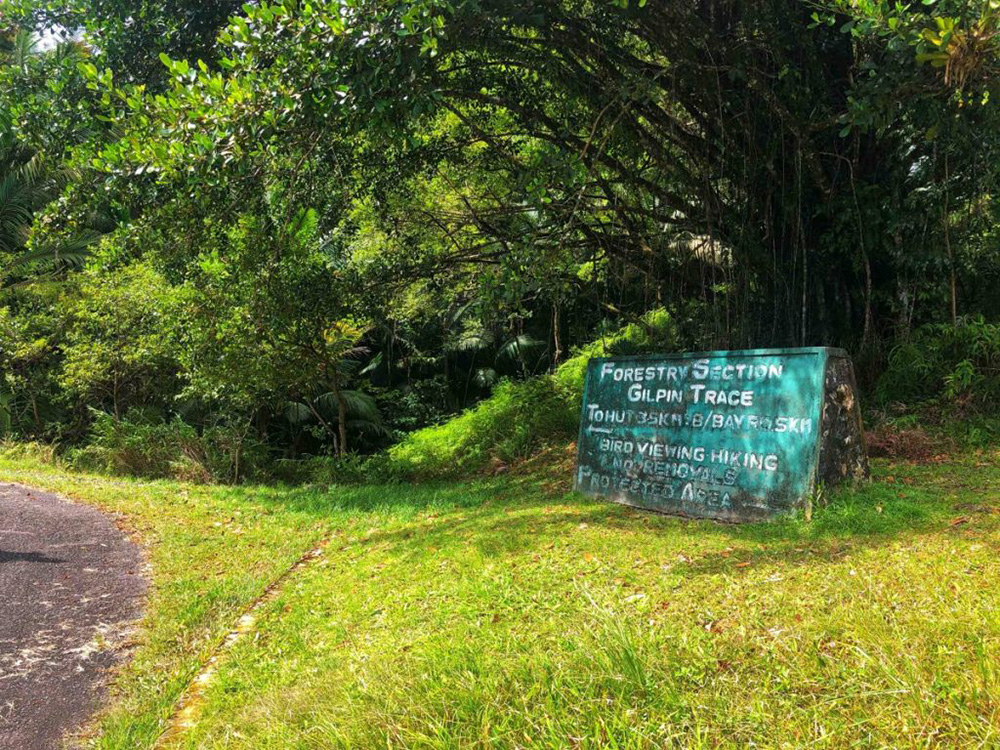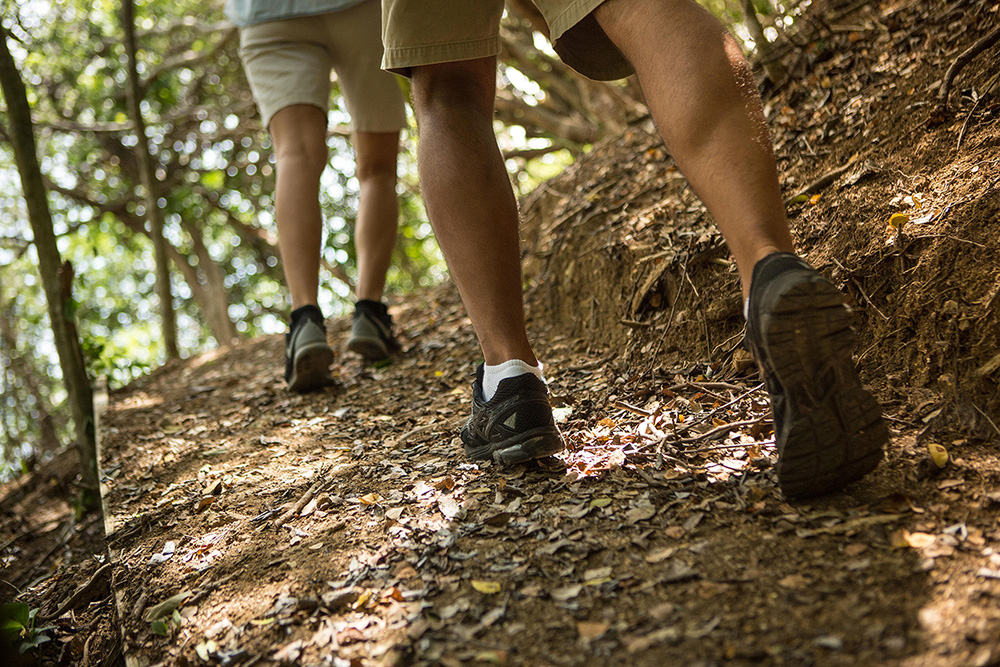 Rainforest Tour
from
The oldest protected forest in the Western Hemisphere – you are hiking along a well-established trail guided by an expert leader who will keep you informed, entertained and safe! As an added bonus you get a relaxing coastal drive through quaint villages and learn about the culture of our people.
Book online now!
All about the Rainforest Tour.
Our tour takes us along the picturesque Caribbean Coast where we experience small villages and towns with beautiful scenery of coastal views and forest. Our moderate hike will take us into the Main Ridge Forest Reserve, which extends for about two thirds of the length of the island. It is the oldest protected Rainforest reserve in the Western hemisphere. 
You will walk on the oldest named and best marked trail (Gilpin Trail), it is overall a quite flat and easy terrain to navigate, and walking is at an easy pace. Many species of birds are found here, manicou and crabs patrol the undergrowth. Hanging bats and digging armadillos are also home to the island of Tobago, which despite its small size is a key spot for unique biodiversity. 
The plants are just as spectacular, from massive bamboo groves to spiny palms and bright red scarlet heliconia blooms. Your guide will point out many of the vegetation's natural healing properties and other interesting facts. Breathe in the fresh & pure air and feel yourself become one with nature.
Note: Tobago has no poisonous snakes.
 TIP: This tour can easily be combined with the Argyle Waterfall tour – feel free to inquire!
---
Additional information –
Details on the Main Ridge Forest Reserve:   
The Main Ridge Forest Reserve was declared a Crown Reserve in 1776 making it the oldest legally protected forest reserve in the Western Hemisphere established for a conservation purpose. The Reserve encompasses 4046.86 hectares of tropical rainforest specifically lower montane, lowland and xerophytic rainforest – and reaches a height of 604 metres. The Main Ridge Forest Reserve is home to a number of flora and fauna, it is estimated that the rainforest provides habitats for twelve to sixteen species of mammals out of the nearly ninety mammal species in the Caribbean region, twenty-four non-poisonous snakes, sixteen lizards and two hundred and ten species of birds, the most outstanding being the White-tailed Sabrewing Hummingbird – that is both rare and endemic to Tobago. After hurricane Flora in 1963 this Hummingbird was thought to be extirpated but has since recovered and was declared an Environmentally Sensitive Species in 2005. Main Ridge is also home to one of the country's National Birds, the Rufous-vented Chachalaca or Cocorico (Ortalis ruficauda). It is also home to the ocellated gecko, an animal that is not found anywhere else in the world. Also, the Main Ridge Forest Reserve was also voted the "World's Leading Eco-Tourism destination" by the World Travel Awards in 2003, 2004, 2005 and 2006, thereby illustrating that it has intrinsic ecological value
Our Highlights, Inclusions & Requirements:
Tour Time:
Duration:
Highlights:
Tour along the scenic Caribbean coast
Gilpin Trace hike (easy to moderate)
Oldest protected rainforest in the Western hemisphere
Lush green foliage and possible wildlife sightings
Requirements:
Comfortable clothing
Closed-toe shoes / hiking shoes / sneakers / plastic bag for muddy footwear
Suntan Lotion / Sunhat
Change of clothing (optional)
Inclusions:
Transportation (from & to hotel)
Tour guide
Bottled Water