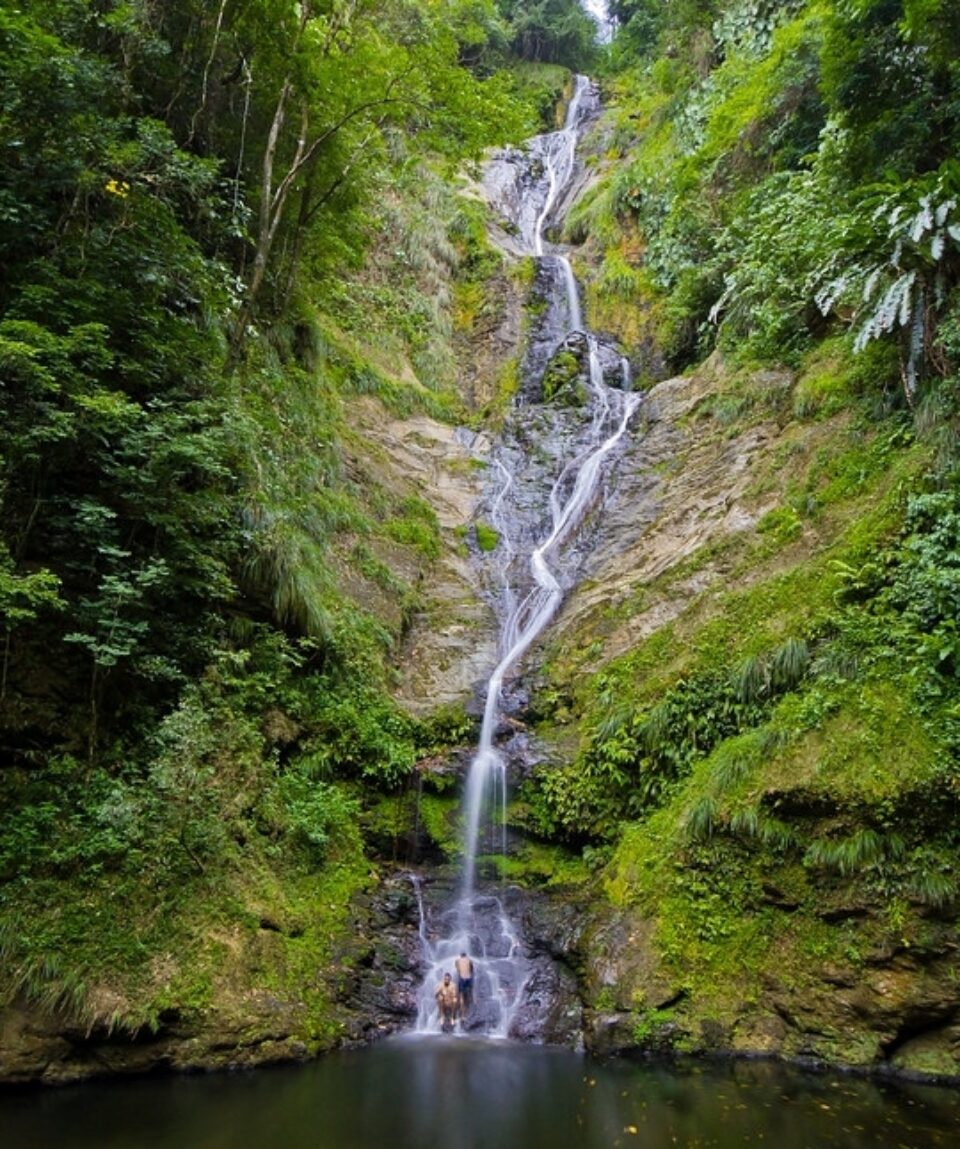 Rincon Waterfall Hike
from
Driving along the scenic North Coast Road, passing busy Maracas Beach we arrive in the quiet seaside village of Las Cuevas.
Beach, Cuisine, Hiking, Nature, Swim
All about the Rincon Waterfall Hike.
Rincon Village is a secluded settlement located just before the Las Cuevas Beach. At 250 ft/76m Rincon Waterfall is Trinidad's second highest cascading waterfall. It flows over a steep cliff and cascades down a series of rock steps into a large basin. Great for a swim!
The hike from the village to the base of the falls will take about 1.5-2.5 hours. The terrain includes a pretty steep uphill climb for approx. 1 hour, followed by a mellower downward hike of approx. 20 minutes – the duration is according to the fitness level of the hikers. 
The trail has a variety of exotic fruit trees, for example Mammie-apple, Mango, Cashew and Cocoa as it leads through abandoned estates from colonial times. 
Echoing distinctly in the forest is the loud call of the black and white male bearded bellbird. His sounds are to attract a female and at the same time ward off any rival males. 
Now it's on to your culinary treat – the ultimate Bake & Shark fish sandwich at Maracas Beach (cost on own). A crispy flat-bread with fried fish and delicious sauces! Beware of the hot pepper, Trinidad boasts the second hottest pepper in the world! 
Our Highlights, Inclusions & Requirements:
Pick up time:
Duration:
Highlights:
Coastal drive along scenic north coast
View small villages along coast
Forest hike with steep uphill climb
250ft waterfall
Swim in plunge pool at waterfall
Culinary treat of local fare on Maracas Beach
Inclusions:
Hotel pick up and drop off Port of Spain and environs
Driver / hiking guide
Granola bars
1 Energy drink per person
Water
Requirements:
Comfortable clothing
Sturdy hiking shoes
Sunhat / sunblock
Swim wear& towel
Change of clothing
Insect repellant
Waiver to sign